Our Services
Septic tank & cesspit emptying
Septic tank & cesspit emptying
Planned and regular emptying of your domestic septic tank or cesspit is the best way to prevent blockages, overflows and foul smells. We have a fleet of tankers and jetting vans meaning we can service any size domestic tank.
Our Wet Waste division offers both an ad-hoc and pre-planned emptying service for homes across the south east and our 24-hour emergency response team are always on hand should you have any unexpected issues or overflows.
Septic tank & cesspit cleaning
Septic tank & cesspit cleaning
Septic tanks and cesspits are great for homes without mains drains, but only if they are well maintained. Like most things in life, they need looking after. Our high-powered jet vacuums allow us to deeply clean inside the tanks, removing any debris and ensuring the tank is clear for the smooth separation and removal of waste.
As a registered waste handler, we hold all necessary licenses to collect, transport and dispose of waste responsibly too.
Septic tank installation/replacement
Septic tank installation/replacement
Whether you need a brand-new septic tank installing, or you have a tank that needs replacing, our experienced engineers can get your septic tank up and running.
For new tanks, we can visit your home and survey the physical structure and substance of the ground and then recommend the best place for the tank to be fitted, before any development begins.
For replacement tanks, we can advise on the right size and model tank for your home's waste water output. We'll also ensure you are compliant with all relevant legislation, including the General Binding Rules that came into force at the beginning of 2020, prohibiting septic tanks from discharging waste directly into watercourses – Read our General Binding Rules Article to find out more
Once your tank is up and running, we can plan regular visits to empty and clean your tank to ensure it runs smoothly for the long term.
If you have any questions about our Wet Waste services, our knowledgeable and friendly staff are happy to help. Call us or click below for our contact form.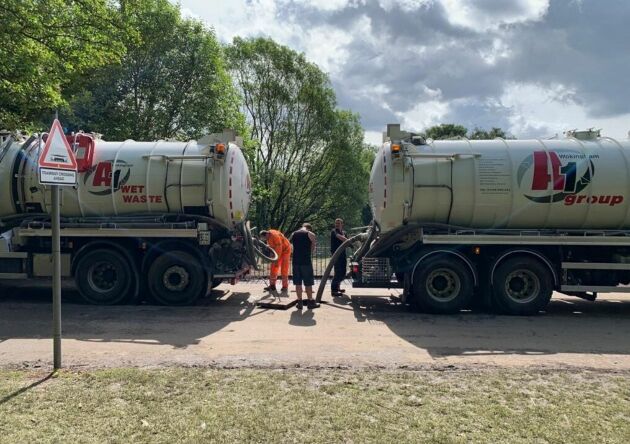 Reliable, professional & helpful

I have used A1 Group's Wet Waste services for many, many years. Totally reliable, professional and helpful operatives that turn up on time and are polite and experienced in their work. Very highly recommended

Steve Kemball -

No job will defeat A1

We have worked with A1 Wet Waste for well over ten years and the working relationship gets ever stronger. There is no job too great to send through to A1 Wet Waste and the site staff will not let a job defeat them. Long may this high level of service be continued!

David -

Highly recommend A1

We have been using A1 Waste for nearly four years now and have always been very happy with every aspect of their work, from the reporting to carrying out a job, A1 staff are professional and reliable. They regularly empty septic tanks for us and have been involved in jetting, clearing or investigating with cctv many problem drains. I highly recommend A1 Wet Waste.

Pauline -