A1 Loo Hire acquires Convenient Hire
A1 Loo Hire of The A1 Group completed the acquisition of Convenient Hire based in Waterlooville, Portsmouth on 30th April 2021 adding another depot to A1's growing empire.
A1 Loo Hire are a leading portable toilet business with its HQ based in Wokingham, Berkshire. Established in 2004 they now have 5 depots in Wokingham, Bridgend, Coventry and Thame, over 150 staff and a range of over 5000 portable toilets plus many other products - making them one of the leading portable toilet companies in the UK.
Established in 1992, Convenient Hire is a family run business currently employing 7 staff with a fleet of 9 vehicles and a range of over 400 toilets and 30 trailer units. The company's main services include hire and servicing of construction site amenities with a regular fixed cliental of events in the summer months.
Clive Owen, Director of A1 Loo Hire had known David and Andrew Poynton (Former Directors of Convenient Hire) for over 20 years, Clive and David were in discussions about work in general and David had mentioned he was considering retiring and selling the business. Due to Clive's involvement in the trade body; Portable Sanitation Europe (PSE) www.pse.org.uk he asked Clive to keep an ear out for anyone who might be interested in purchasing the business. A1 Loo Hire has recently taken on a considerable amount of extra work from Nixon Hire, Elliots and Sunbelt – a large proportion of which happened to be along the South coast. A1 Loo Hire had already started looking for a yard in this area so the purchase of Convenient Hire felt like a perfect fit. The acquisition brings together two family run businesses with one main aim of providing the best service to their customers.
Clive Owen, Director of A1 Loo Hire and his management team are keen to reassure existing customers of Convenient Hire that it will be business as usual following the announcement.
Clive Owen commented; "Having recently taken on a considerable amount of work along the South Coast, expansion with a fixed depot in this area felt like the next move for the business. By chance a conversation with a long-standing business associate (David Poynton – former Director of Convenient Hire Ltd) made us aware that the business was coming up for sale. Convenient Hire has a great reputation on the South Coast and it's a great opportunity for A1 Loo Hire to take on their cliental and also service our own contracts from the depot. We look forward to bringing the two companies together expanding our services further along the South Coast".
The A1 Group began as a pig farm back in the 1960's and has evolved and grown to become a multi-functioning Group of Companies incorporating A1 Wokingham Car Spares & Metal Recycling, A1 Loo Hire Ltd and A1 Wet Waste Ltd.
The acquisition was overseen by Clifton Ingram Solicitors on advice from A1 Loo Hire Ltd.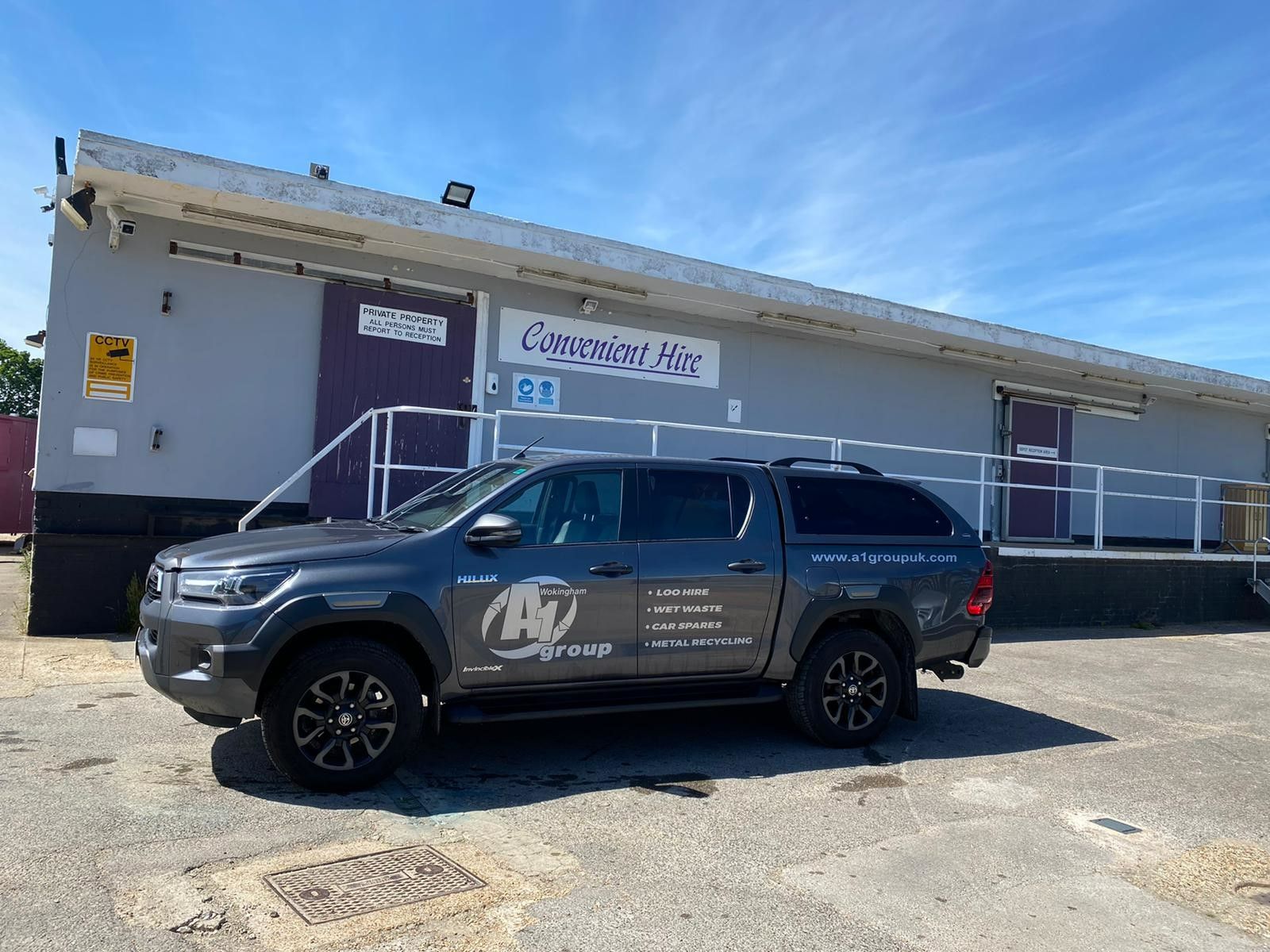 Find our more about the range of services A1 Loo Hire has to offer, call us today or view our product range.