A1 Group Reflects and Recaps on the year 2022
As we begin the new year, we would like to reminisce on the year before us, 2022.
We began the year still in the midst of COVID 19. We were at the forefront of the testing centres in England and Wales, having our operatives work tirelessly around the clock, to ensure the safety of the nation through providing sanitation services across the UK testing sites. Between the months of May to June 2022 we were demobilising and off hire our units and services at these sites. This over run into our usual event season period, but did not throw us of our form, we were able to begin our event season as usual, in May and went on to covering multiple festivals small and large on a daily basis throughout our summer period. We have shown our commitment to all our customers by ensuring our service is at the forefront of what we do. Not only do we continue to supply to the same festivals and construction work and yearly, we continue to willingly take on more festivals and more customers in all divisions every year.
A1 Transport
After a lot of hard work and preparation from the Directors and General Manager, in March 2022 we were able to officially announce our new division, A1 Transport.
Based in South Wales, A1 Transport opens up A1 Group to a new sector of work, specialising in transporting site accommodation in and around the UK. Since the divisions launch, A1 Transport has been able to grow its fleet and employees; currently operating with 3 HIAB drivers, operating a 32T Volvo with an 85T front loader crane, a 32T DAF with a 65T crane and also a 32T Volvo with 60T crane. These 3 HIABS run alongside their Volvo Tractor Unit with a 45' bed.
This year A1 Transport has been seen working across many projects and events across the UK, including Glastonbury Festival, Hinkley Point and Tata Steel Works.
A1 Transport have thrived this year, creating new relationships with customers such as Kabin Hire and working alongside A1 Groups longstanding customers; Sunbelt Rentals, Mobile Mini, soon to be Algeco and Wernick Hire. We are looking forward to another busy year ahead, as General Manager Emma Bevan states, we aim:
'To expand our current successful business and acquire more vehicles to grow a modern fleet to carry on providing 1st class service to our existing and new customers. We look forward to sharing more about this exciting new venture!'
Where have we been this Summer?
We began our event season off in the middle of May with the Royal Windsor Horse show, in the heart off Windsor we supply our best products and services in support of The Royal Family, this is an event we do yearly and each year we are honoured to do so.
After this we went on to supply at the BBC Radio 1 weekend, the same weekend as Neighbourhood weekender at the end of May, a steady start to a busy season!
As we move into June, we are fully booked over every weekend. Beginning with Epsom, Download Festival a longstanding favourite of A1s, along with Park life, Isle of Wight and Glastonbury. We often wondered how we are going to pull this off, but our operatives never fail us, and we always get the job done.
By July there is no stopping us…we are not only providing thousands of toilets across the country for festivals such as Wireless, Love Box, Latitude, Tramlines and Camp Bestival, back-to-back. But we continue to offer our services out to construction work and other customers. We continue to run our day-to-day service rounds and provide event toilets to smaller events per depot such as Brighton Marathon, On the Beach festival, Depot in the Castle, Cardiff South Wales etc, along with our site toilets to construction sites, luxury trailers to weddings and so on.
August continues to be as busy as the last, every weekend we have not only one but two festivals running alongside each other, stretching our operative staff to the absolute limit, they work day in day out; pre, during and post show. We cannot thank our staff enough for the hard work they put in to allow the festivals to run smoothly. From Wilderness Festival and Rewind North on the same weekend, to Boomtown, Camp Bestival, Rewind, Reading and Leeds. And to top it off we managed to introduce a new festival to our list, Creamfields. To which we have had great feedback and will be continuing to work with this event in the coming years.
Not only have our Wet Waste division worked closely with the Loo Hire Division over the festive period covering 40 large festivals, they also worked on the common wealth games across all sites, London Marathon, Frieze festival in Regents Park, they also covered the Jubilee and her Majesty the Queens funeral.
In the midst of our busiest time of year, we opened our new depot located in Grays, Essex. From buying the land to building the depot up from scratch. We have our building team currently building on the land whilst our new team works in temporary offices. The depot is fully up and running whilst we safely refurbish the offices, with our trusty handy man, John the Builder, and of course Santas Little helper, A1 Elf! With orders being placed and fulfilled daily we are happy with how quickly this depot is coming along and are looking forward to the end result!
The Summer Draws To an End
September marks the end of the summer event season for us here at A1 Loo Hire & Wet Waste and what a season it has been! Our first full season back to normality post COVID-19 and it ended with an unexpected change to our schedule.
Over the course of the summer months, we have worked at over 22 of the country's largest music festivals including Reading & Leeds, The Isle of White Festival, Creamfields and many more. At those events alone we supplied and serviced over 16,500 toilets! We couldn't facilitate so many events without the exceptional planning from our office teams and the hard work of operatives at each and every event – so a huge thank you to all involved.
To end the summer season we were all set up for our final large event at Temple Newsam Park in Leeds for the BBC Radio 2 weekend concert; unfortunately the event was called off as a sign of respect during the mourning period for Her Majesty the Queen.
Supporting the Royal Funeral
We've worked at many events hosted for and with Her Majesty over the years including the Royal Windsor Horse Show and the Platinum Jubilee celebrations at Windsor Castle which have all been a privilege. Whilst the funeral wasn't an event that was looked forward to by many, we wanted to ensure we provided the best possible service to the Royal Family and mourners far and wide as they paid their respects to Her Majesty. As this was an unplanned event, the timeframe we had to get things ready was unprecedented. But nevertheless, our operatives and office staff were able to rise to the challenge, showing our flexibility and dedication to ensuring the best of the best portable sanitation and service were provided.
Throughout Windsor we supplied in excess 600 toilets for visitors along the Long Walk and around Windsor town. We also supplied every 1km . Kensington & Chelsea council for the route 125 singles, We would usually not be able to supply such a large event in such little time, but due to the circumstances and long-standing relationship with The Royal Family we agreed immediately to take on the order so we could help provide a memorable send off for her Majesty the Queen.
A1 Group have never encountered such an event. We were heading into the unknown in such a short time frame. We already had upcoming events that our units were on hold to, we pulled units from across the UK. Depot to depot we managed to produce our best stock, not only did we manage to successfully provide for this event, but we were able to continue our usual workload and promised events in a timely manner. We received only praise from the event organisers and believe there were no complaints about the toilet facilities. We thank the Royal Family for relying on us to pull through and look forward to continuing to work closely with them throughout the coming years.
Testimonial
I'm writing to say a heartfelt thank you for your part in the successful delivery of the final journey of Her Late Majesty Queen Elizabeth II in Windsor on Monday 19th September. It was our privilege to work with you and your team on such a historic event which was watched globally by over 4 billion people.
The eleven days onsite were 'dynamic' and brought many challenges, yet the spirit of collaboration and 'can do' attitude from all involved, ensured that we were able to deliver against the odds.. This was our industry at its finest and our sincerest and most grateful thanks to you and your incredible teams.
Earlier this year, many of us were together for Royal Windsor Horse Show and Platinum Jubilee celebrations, events where Her Majesty was seen at her happiest. In the 79 years of Royal Windsor Horse Show, Her Majesty had never missed the event as both a visitor and competitor. Royal Windsor Horse Show 2023, will carry on the legacy of Her Late Majesty's influence over the 79 years, commemorating Her life with horses and will celebrate the new King.
We look forward to working with you in the future and once again thank you for your delivery in Windsor over the last twelve days
Nick Brooks-Ward & Madeleine Marston H Power – Operation London Bridge September 2022
Ending the year in festivities, our Wet Waste Division are working on Winter Wonderland along with A1 Loo Hire providing HDU Units at Winter Wonderland this year. We have also provided Loo Watt toilets through our Thame Depot, our Eco Waterless Toilets at the ExCel London International Horse Show, which were first showcased in the March London ExCel at the Event Production show, alongside out 'Madampee' demo unit; a urinal for women. A1 Loo Hire and A1 Wet Waste teamed up to provide the sanitation requirements for the London New Years Eve Fireworks display in front of the London Eye. We had a number of operatives working on this event, although we usually shut down over the Christmas period, we were able to provide our services to this high profile event smoothly and with great success.
Construction
Not only have we worked on multiple events this year, we continue to work closely within the construction industry with many of our long standing customers, whom we go as far as having specific account managers stationed in their depots to ensure our services run smoothly and communication is well kept during each stage of hire and service.
Loo Hire and Wet Waste over the past year have began working alongside HS2, doing various services such as welfares to specialised JetVac work.
We are proudly now the main supplier of toilet hire for HSS in Portsmouth along with branching this out to our depots across the UK such as Bridgend, South Wales. Portsmouth supplies the Naval base along with all the events HSS hold, such as coming home events and charity events. Portsmouth are also supplying all the toilets for the ship building and maintenance for the Naval Base.
New Fleet
We aim to ensure we have the newest, most efficient and environmentally friendly fleet possible. All our vehicles used for delivery and servicing adhere to Euro6 standards.
We have added new fleet across different divisions this year; two Artic Barrels and three new Rigid Vacuum Tankers to our Wet Waste Division and one Mercedes Flatbed Van and three Mercedes 3.5ton Service Vans have been added to our Loo Hire, Portsmouth Depot to mention a few.
Metal Recycling & Car Spares
We are always getting a selection of scrap coming through our yard day to day, but this December 2022 we have received some rather interesting scrap come through, several trains have been exchanged.
During the spring we had the opportunity to showcase some of our classic cars in amongst the shoots and buds during show season.
Charity, Giving and Festive Fun
As a whole company we got involved with National Pink Day, raising awareness and funds for the Charity – Breast Cancer Awareness. Every depot took part in charitable games, dressed in pink, we ordered pink hi-vis uniform for all our operatives for them to attend site and spread awareness. Every depot took part in donating a substantial amount of money to which A1 doubled. We raised an incredible £4000! Which is a testament to the generosity of our staff and customers.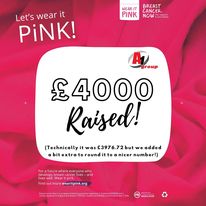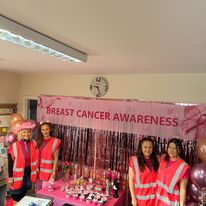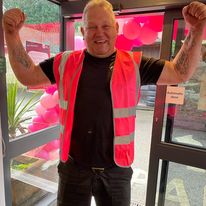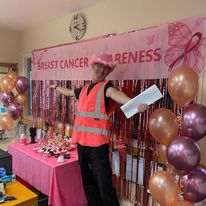 Our Coventry depot were so kind to supply toilets free of charge to a charity called The Landale Trust for the event called: JLR Community Project – Spencer's Retreat. The charity was let down last minute by another supplier and got in touch with us, we were able to turn this around in a quick manner. We not only received a positive testimonial but a certificate of recognition.
__________________________________________________________________________________________________________
In recognition of the efforts and support on behalf of Jaguar Land Rover for the TI-8 Spencer's Retreat Community Project

1st November 2022

A1 Group UK
__________________________________________________________________________________________________________
Our Wokingham Depot kindly gave to a local charity who called First Days Children, this charity make up kids Christmas stockings and food hampers for families who are struggling in the Wokingham area, this charity is also apart of SHARE, which is a foodbank also based in Wokingham.
Our Wet Waste Division have been involved in many charitable events over the past year and have sponsored many of football teams along with sponsoring a cycle around the Isle of Wight.
Our Thame depot provided toilets for the Agrisocial Road Run 2022; this is a great event that raises money for Thames Valley Air Ambulance.
To finalise the year, we have been shortlisted for Festival Supplier of the Year! The awards ceremony will take place in January 2023.
We thank our colleagues for their continued hard work over the 2022 period and huge thank you to our customers for their continues support throughout all of the A1 divisions. We look forward to working with each and every one of you throughout 2023.
Yours Faithfully,
A1 Group.